Roon Remote: Using UX Research to redesign Volume and Zone features.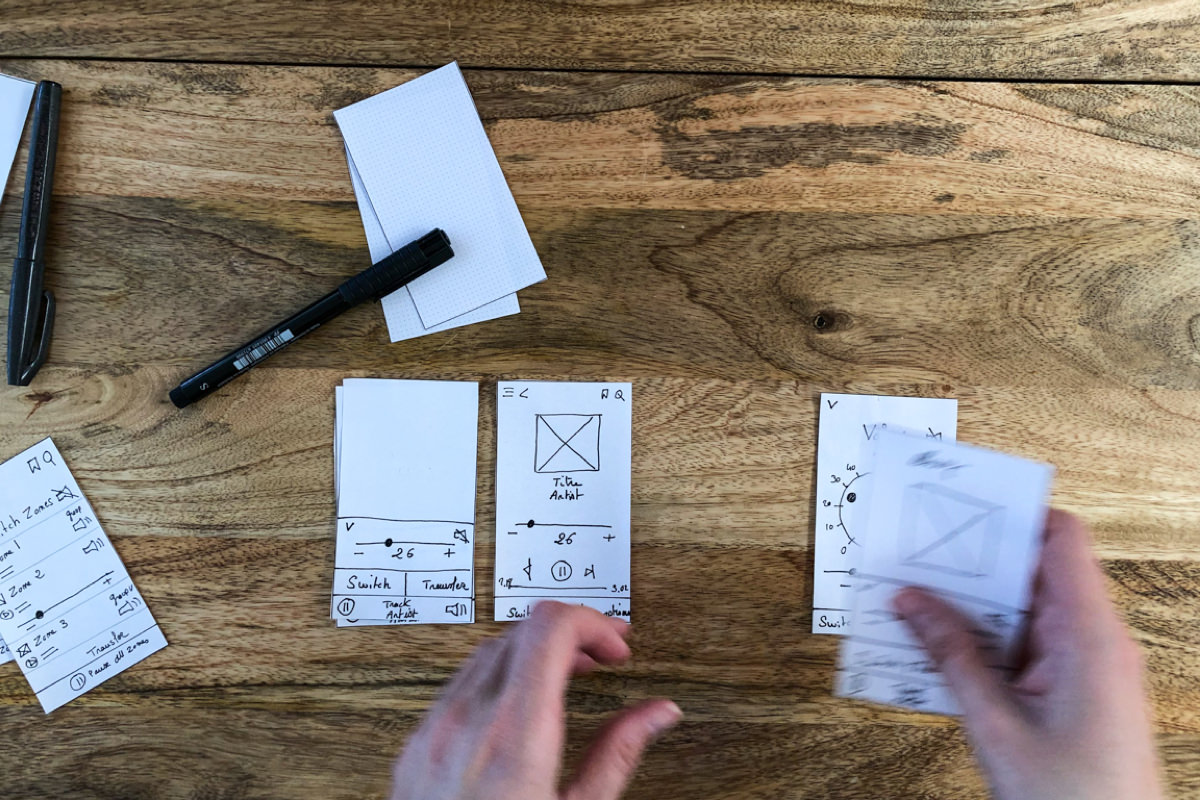 Myself while working on the low-fi prototypes
About the project
Launched in 2015, Roon is a powerful music library management software & mobile app.
The purpose of this project was to discover and analyze different issues using different User-Experience research methodologies, and develop design solutions for Roon mobile app.
This project was a self-motivated project; I approached it as a real-case situation.
I want to thank the Roon team and its community of users with whom I was in contact during this project.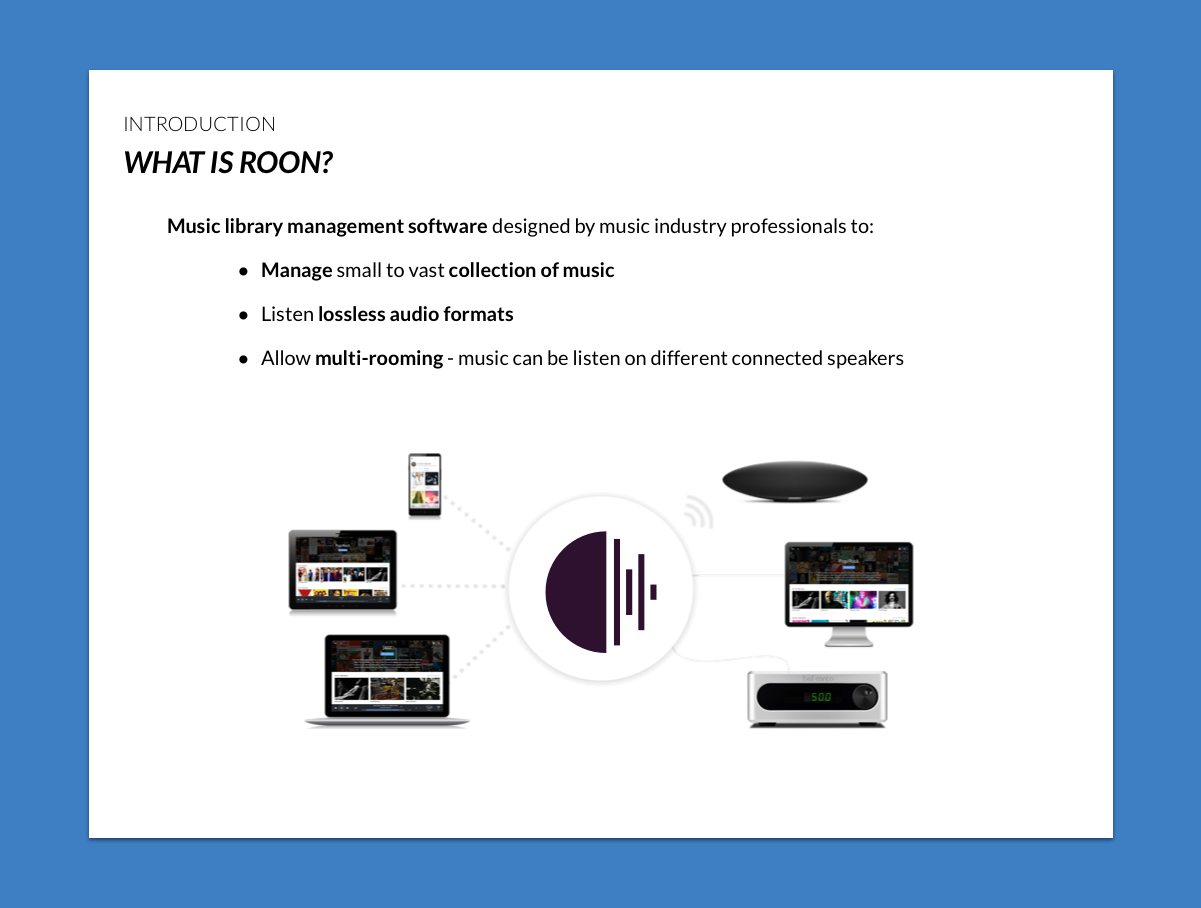 Understanding the product, the most important step to any Design project — excerpt from my presentation
UX Challenges
As Designer - and Roon user - I've always found this software editor's philosophy interesting: their cross-platform products are based on Emotional Design.
One of the many challenges of this project was running the usability tests without hearing music. A whole dimension was missing, making the usability tests challenging to evaluate!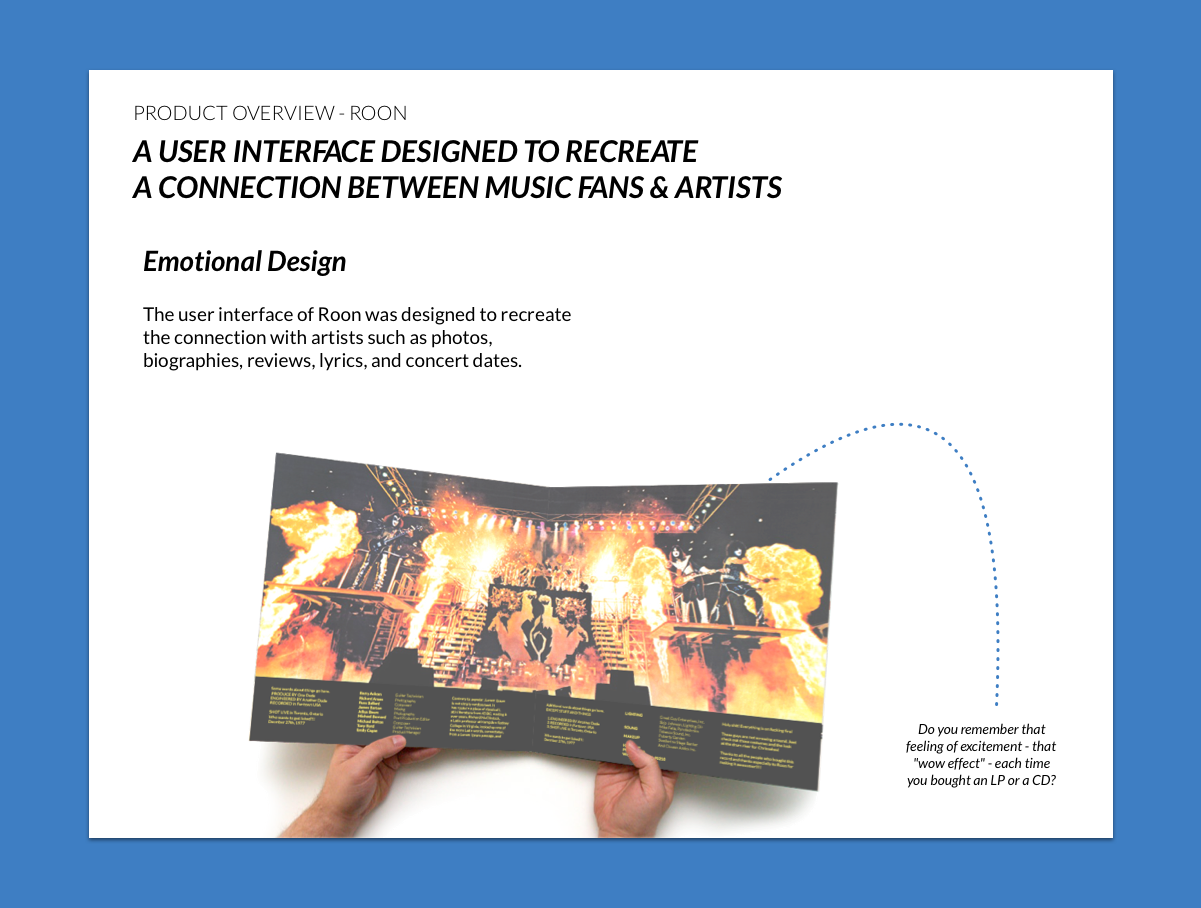 Roon was designed to recreate the feeling of excitement felt by music fans when they used to purchase a vinyl or a CD (aka Emotional Design) — excerpt from my presentation
Audit the market
I ran first a
competitive analysis
of Roon's market and the surrounding industry to explore its different products, partnerships, and frenemies.
During the business analysis phase, the last Music Consumer Insight Report* published by International Federation of the Phonographic Industry (IFPI) had been essential to understand the music industry trends and some strategic choices Roon LLC made.
*Music Consumer Insight Report, published by IFPI (International Federation of the Phonographic Industry), in September 2017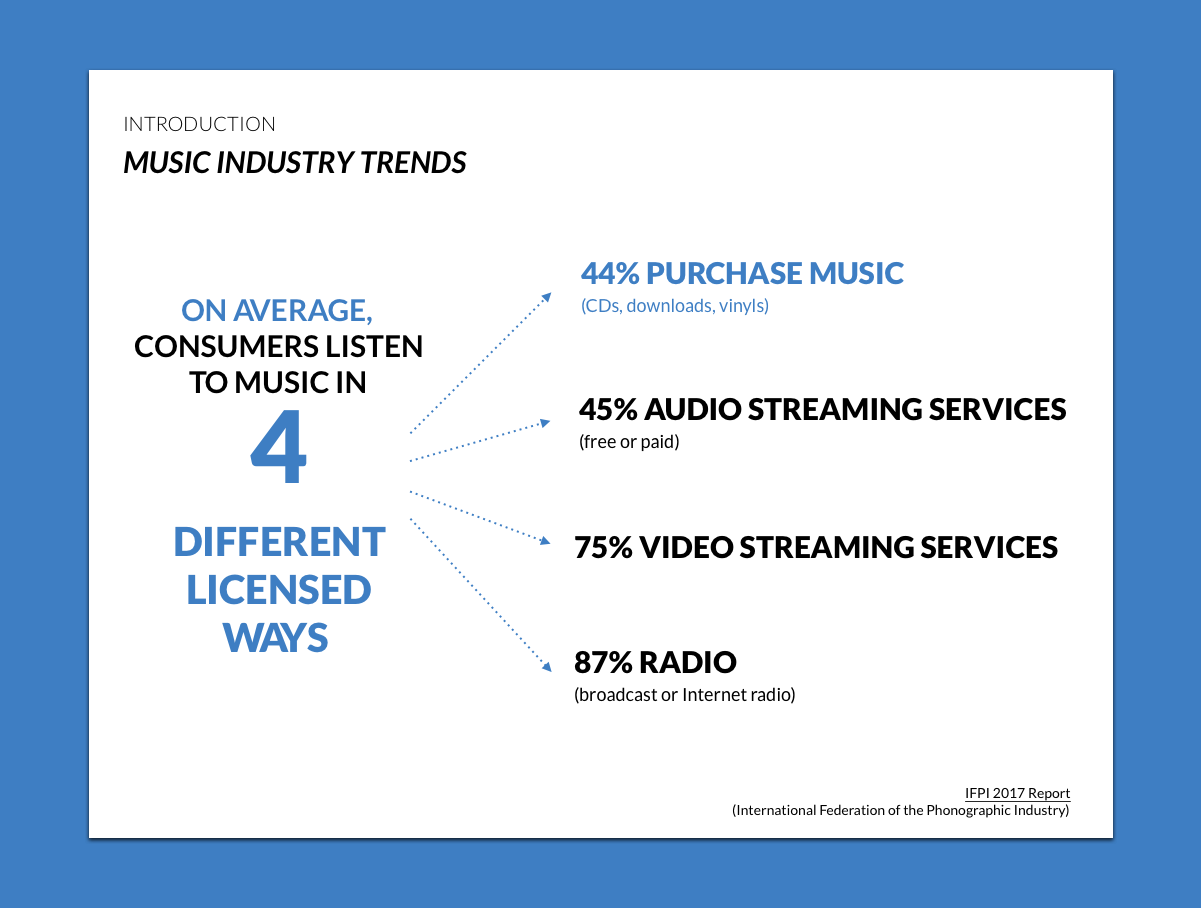 One interesting fact: in 2017, 44% of people listen purchased music — excerpt from my presentation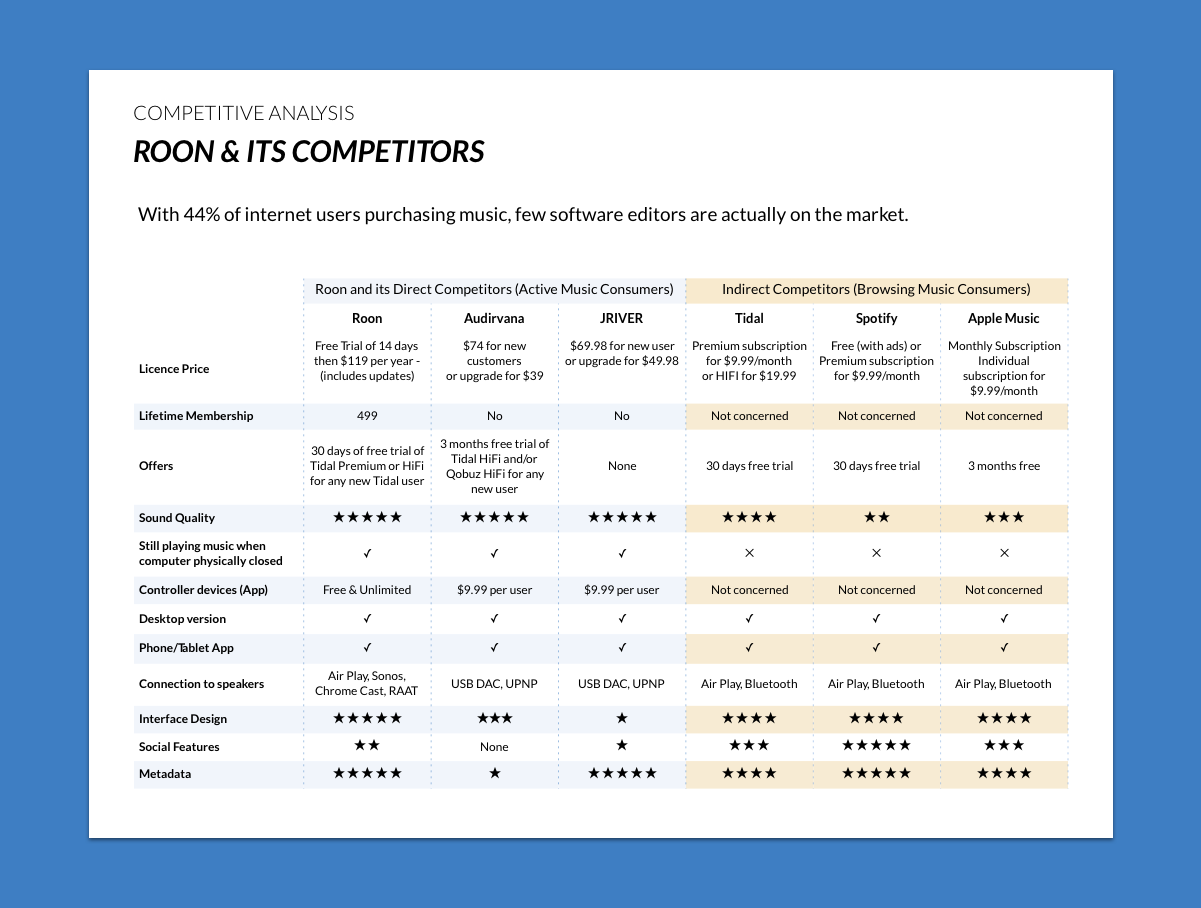 A competitive analysis of the music library market — excerpt from my presentation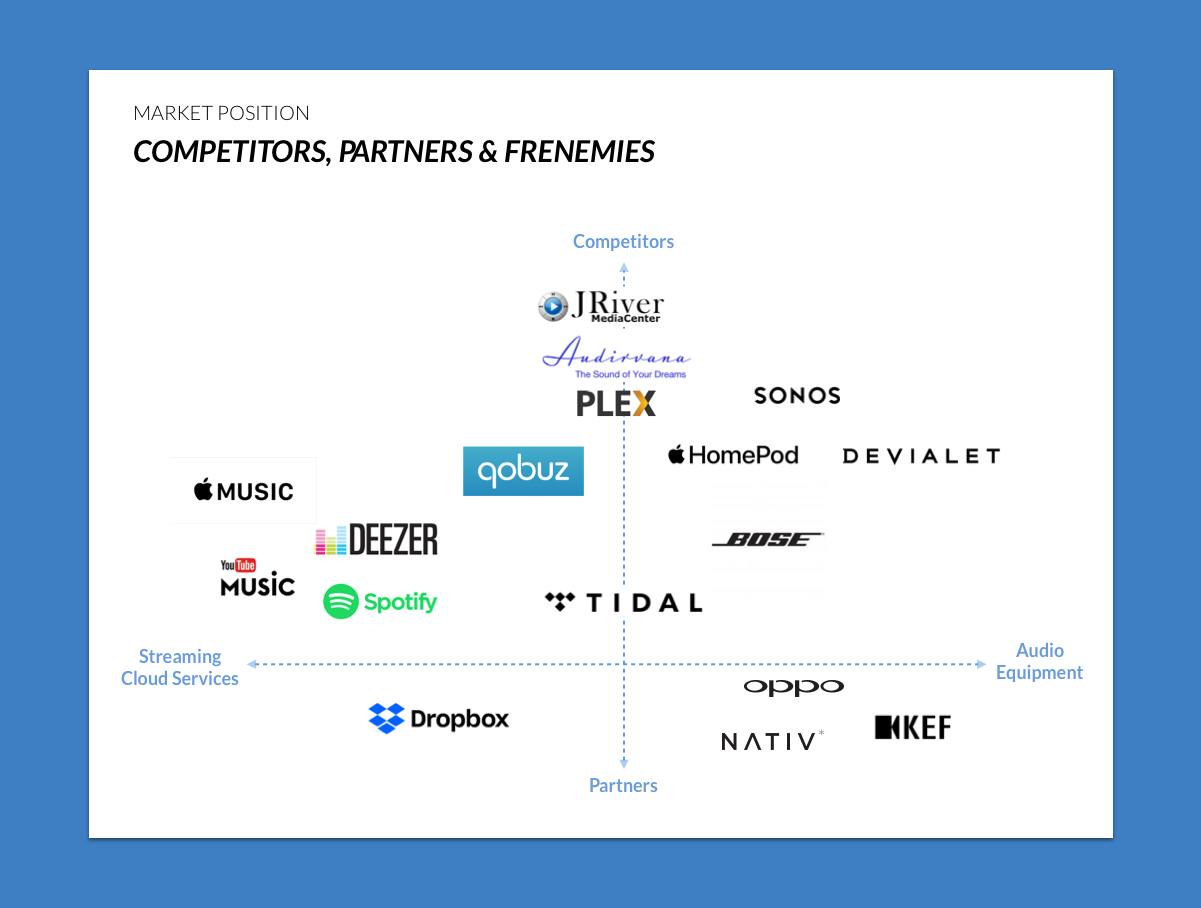 Roon positioning, showing how its segments and markets differentiate it in this highly-competitive industry — excerpt from my presentation
Zooming in: identify the product strategy
The first step was zooming in low level: how the app works, for whom and what are its benefits.
The end-users profiles I identified were:
an audiophile who has a vast music collection, which is a Tech Savvy, who already owns high-end audio equipment;


a music industry professional: she or he has a real interest in using Roon every day in a professional environment.
From the market analysis, I created two personas: Anthony the Nerdiophile and Lisa the Professional.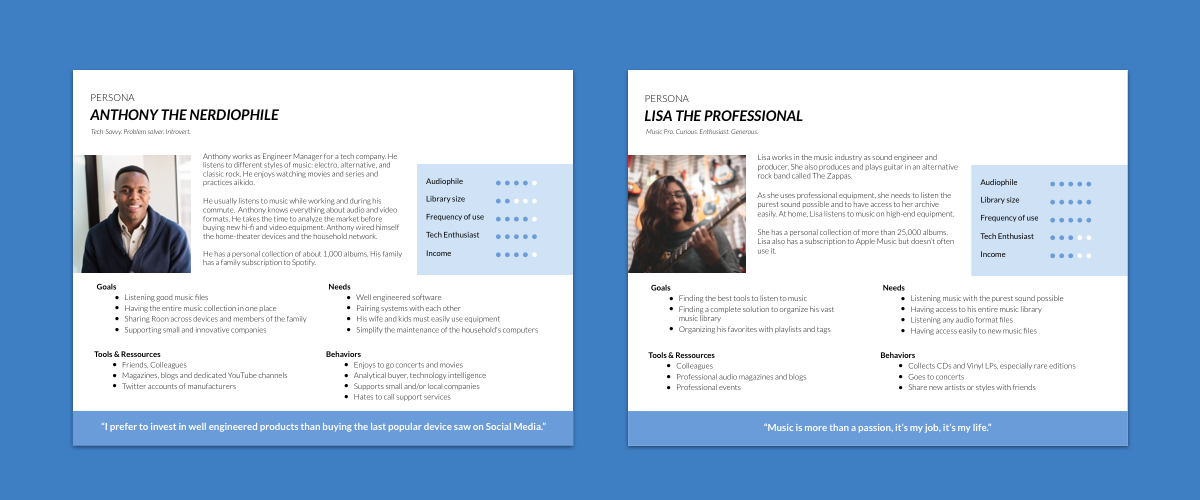 I often referred to the personas later while working on the redesign of some features - — excerpt from my presentation
Heuristic Evaluation
To evaluate and identify problems, I ran:
A teardown to explore the product and
and I documented the flows of the experience I was working on.
I have appreciated these two methods: being a long-time Roon user myself, these helped to take a step back and put on the UX Researcher cap. The problems I identified as user are not necessarily the ones I focused on the project!
I identified four major problems in the following functions:
Adjust the volume
Transfer an audio zone to another (example: a song is played on the living-room speakers and the user prefers to listen to on another room)
Synchronize the music library
Search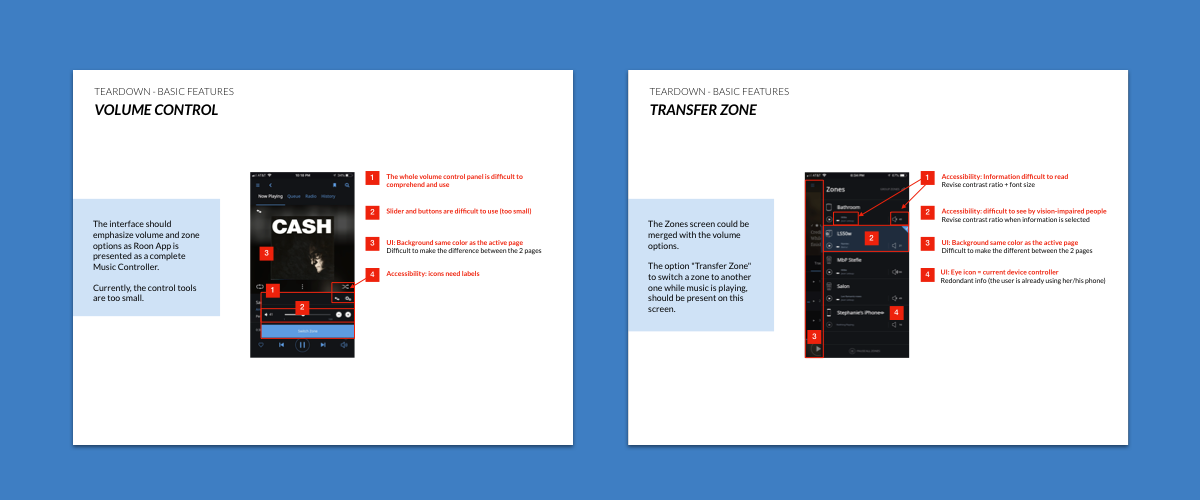 The teardown was the opportunity to identify issues — excerpt from my presentation
Play music: actual Initial Set up case — excerpt from my presentation
Interviews & Usability tests
To rank these problems and define on which ones I should focus on, I conducted four in-person usability tests and interviews. One participant was a Roon user, the others were not, yet they were familiar with streaming applications such as Apple Music or Spotify.
"The minus and the plus buttons are too small, I can't see what I'm doing!
It's a bit dangerous, that's why I added some [volume] limitations"
— Antoine [Roon user]
Participant (Roon User) explaining why he personalized the volume control panel - excerpt from my presentation
Findings
Participants encountered some difficulties during the usability tests. The most alarming paint points were that participants couldn't use easily essential functionalities, such as adjusting the volume or modifying the zoning. Very annoying issues for a remote control app!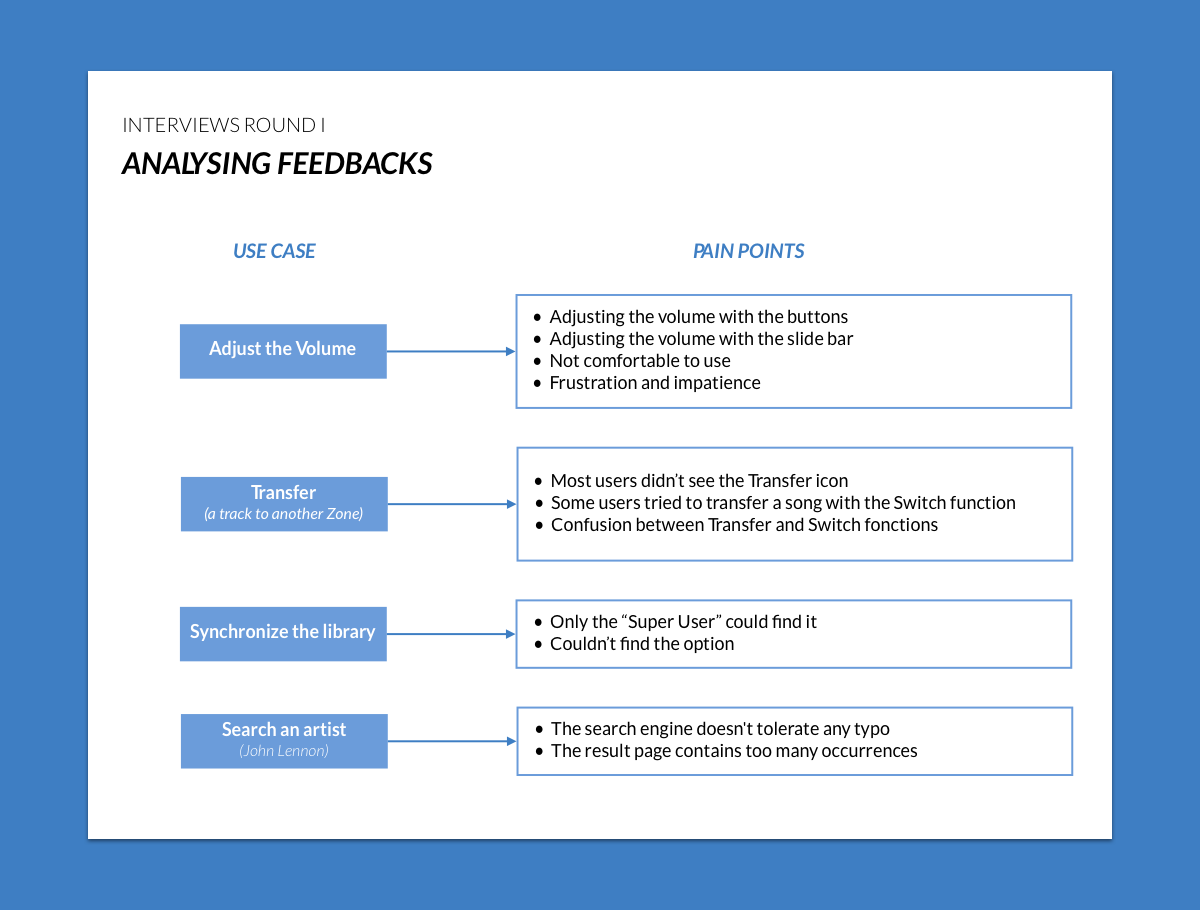 Summarizing paint points and feedback from interviews — excerpt from my presentation
---
"My fingers are too big!" — Daniel
"It doesn't work - I can' do it!" (Frustration). If I select your white speakers [LS50W], it plays another song !!!" — Brian
"I made a typo - there's no search results. Is it a bug?" — Olivia
---
Design Solutions
During the redesign phase, I did my best to be respectful of Roon's visual identity to ensure continuity between the existing app and my solutions.
I designed and tested some ideas/concepts by simply using a pen and paper to draw rapid ideations.
The wireframes & low-fidelity prototypes were designed with Sketch App. Using Craft, I synced the files into Invision to build an interactive prototype.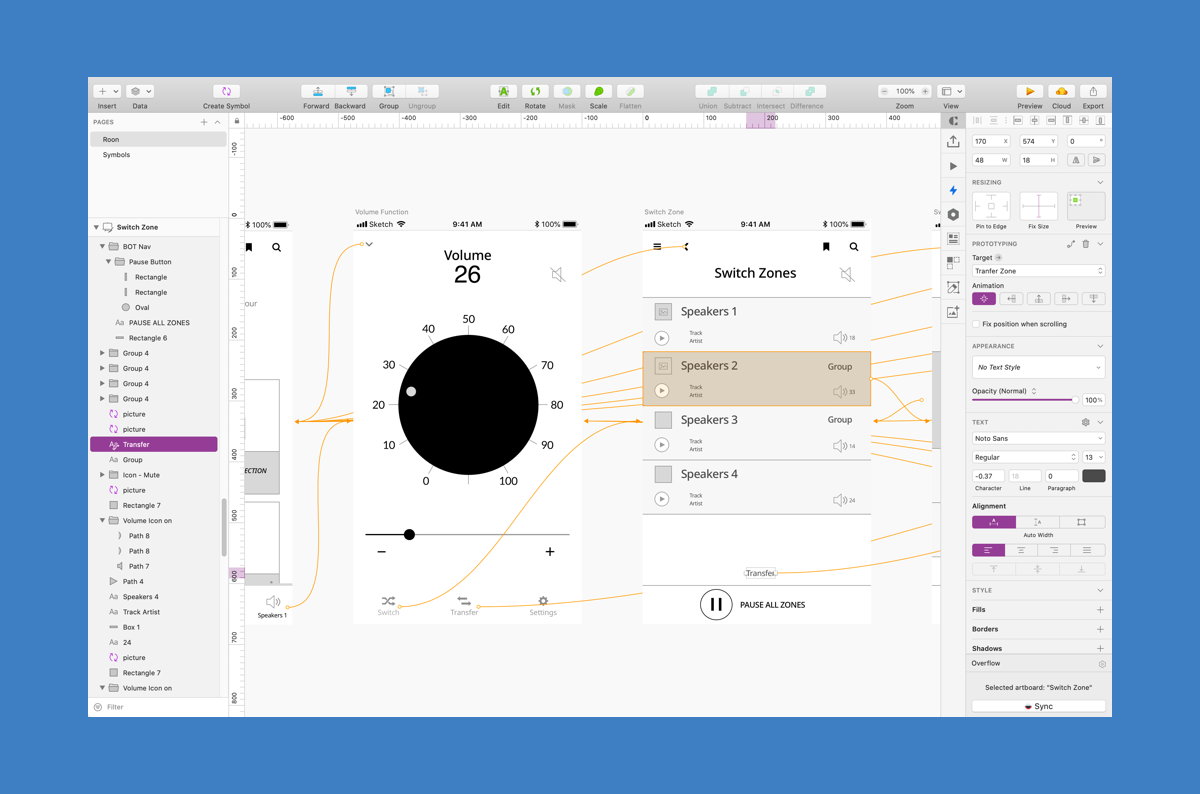 Working on wireframes using Sketch App
Looking for a "wow effect"!
Keeping in mind Roon's DNA and history, one of my goals was also creating a solution that was part of Roon's emotional design philosophy.
On many audio equipments, the volume is adjusted with a potentiometer: designing a skeuomorphic element* for Roon and observe how participants would react to this new element had been a particularly exciting part of this project!
*Skeuomorphic Design: Don't Apply It Blindly by Bruce "Tog" Tognazzini, Nielsen Norman Group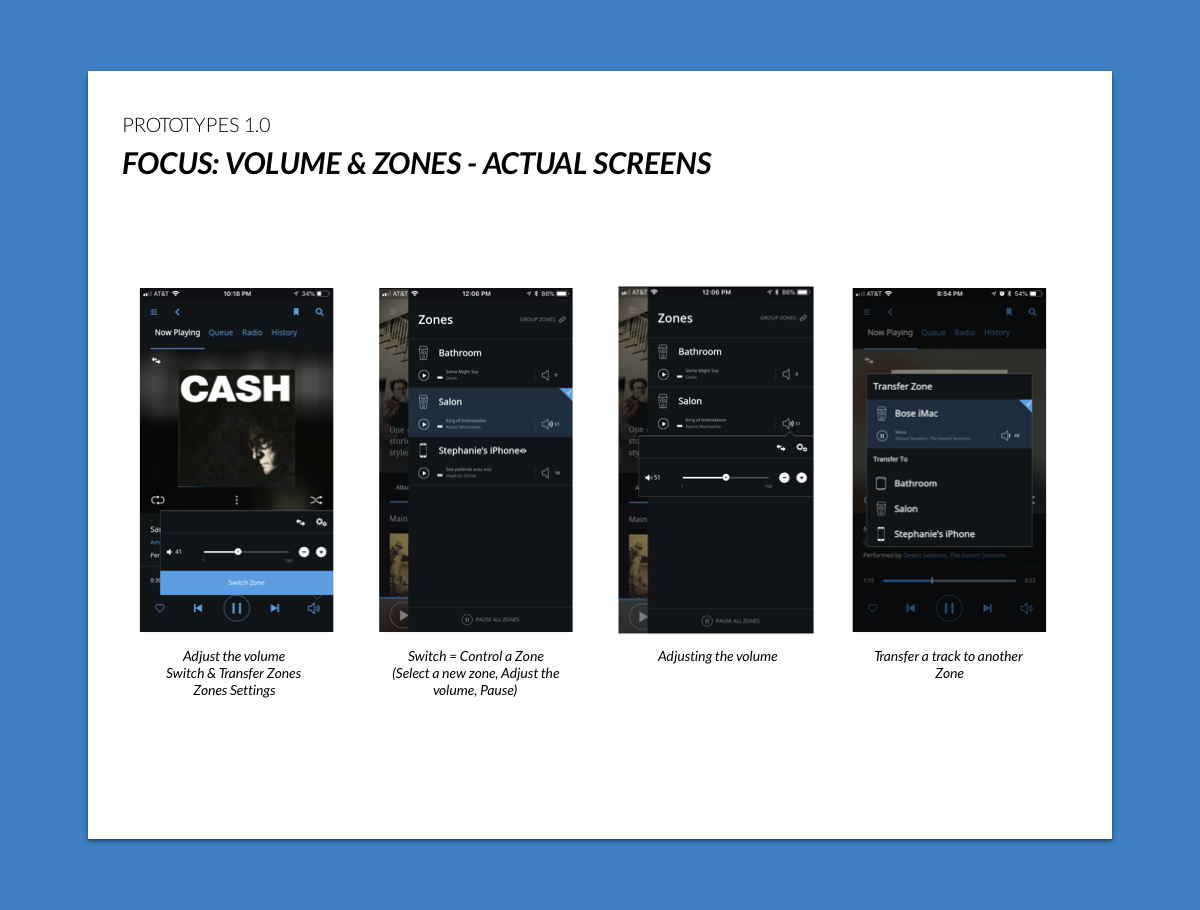 Actual screens from Roon App: Homepage, Control panel, Transfer and, Switch zones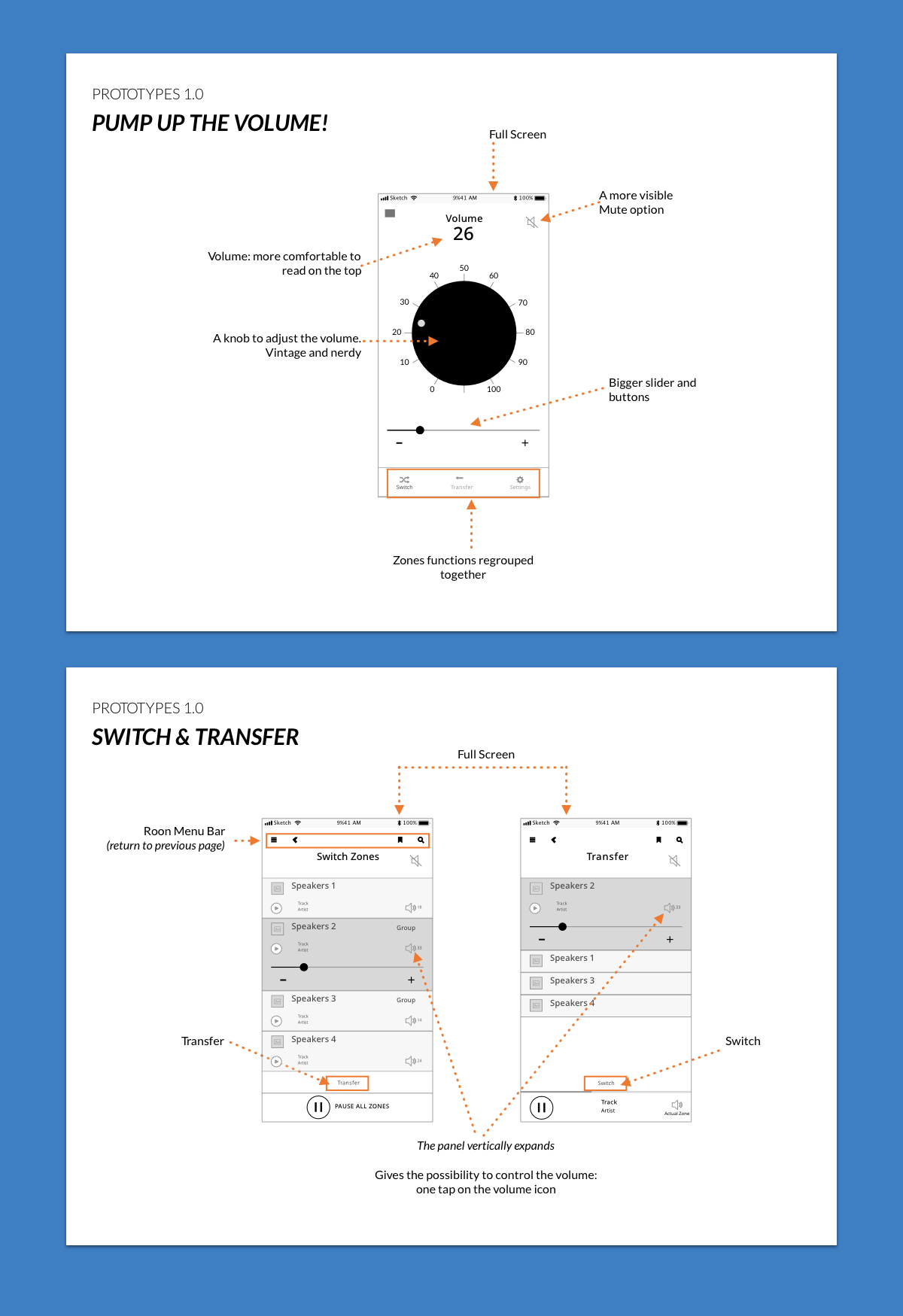 Prototypes designed with Sketch app. I upload them on Invision to make them interactive for user testing — excerpt from my presentation
Participants testing the design solution. All try to play with the volume button!
This project was the opportunity to work on an existing app and design some solutions to improve it through Research and User Tests.
Conduct a market audit and identify Roon LLC product strategy were key-factors to understand this highly-competitive industry and Roon LLC positioning.
If I had to work on this project again, I would include in my Researches 50% of Roon users (both early adopters and new users) and 50% of non-users.
I would go further while testing the prototypes by organizing an evaluative research: how users modify the volume when they use Roon at home? What is the position of the phone: on a table, in their hands? Do they use the big volume button? Who's using it, who's not?...

Another possible lead: After conducting a Survey about implementing a Vocal Assistant to Roon, and depending the results, designing a VUI (Voice User Interface) would be a exciting possible future project (the current version of Roon app doesn't support VAs)
New iterations always bring powerful results!